About the Blue Star Banner Program
MISSION STATEMENT
The BLUE STAR BANNER PROGRAM strengthens, supports and seeks to enhance patriotism throughout Washington.
VISION STATEMENT
Honoring the local men and women serving in the U.S. Armed Forces, by proudly displaying Blue & Gold Star banners throughout Washington communities (current communities approved: Bremerton, Jefferson County, Kingston, Port Orchard, Poulsbo, Seabeck, Silverdale, Port Angeles & Mason County).
Brief history of the Blue Star Banner
Although many are familiar with the Blue Star program, the "Blue Star" symbol began around 400 BC when Alexander the Great made use of it as a sign of great heroism. The Purple Heart also contained the blue star, but years later it was changed to its present design.
The Blue Star Flag was created in 1917, hanging in homes to denote family members serving our Armed Forces; each star represents a family member proudly serving our country. The idea spread to include businesses and churches, a star for each employee or member who had gone to war.
The program also was implemented during World Wars I and II, honoring once again those serving our country.
After the September 11th terrorist attacks, the whole country came together again showing their patriotism. There is no better time than now to bring back the "Blue Star Program".
About the Founder
Lynette George is the mother of two sons who had been concurrently serving 2 tours in Iraq. She decided to undertake a project to honor our military in Kitsap County but since has expanded the Program to other communities in Washington State.
While driving through the streets of Temple City, California a suburb of LA, Lynette was overwhelmed by the touching display of street banners to support their military personnel. The community had these large banners proudly hung for each local service member, this "Blue Star Banner Program" (BSBP) has spread to several cities in California. This provided inspiration for Lynette to bring this sign of patriotism to Kitsap County and now Washington State. The BSBP recognizes and supports our "local" military personnel who are currently serving in our Armed Forces.
Forming the non-profit organization "Blue Star Banner Program" was a momentous task. Working with local government, politicians, businesses, utilities, and a host of others, the BSBP was successfully launched in 2005. Lynette hopes that all our citizens are as deeply moved as she was with the first glimpse of this program in Temple City.
6-foot tall Blue Star banners are created for each "local" military member proudly serving our Country. The banners will be displayed throughout their hometown for as long as the member is serving our country or 3-5 years the life expectancy of the banners.
Gold Stars are displayed for those who have died while protecting the freedom of our Country. Please click on the Gold Stars to see our hometown heroes.
The Blue Star Banner Program
is dedicated to Lynette's sons: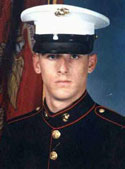 Wayne George, USMC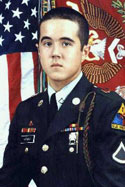 Christopher Weimar, US Army